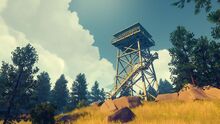 Two Forks Tower was a fire watch tower located in Shoshone National Forest. It was used to spot forest fires.
It was once used by Ned Goodwin, who occupied it with his son, Brian Goodwin. Three years later, it was occupied by Henry.
There were other towers in the vicinity, including Chimney Rock, Elk's Fork, Beartooth, and Thorofare Tower, and Two Forks was also close to Cave 452. Jonesy Lake could be found to the east.